Madison Railroad
"History"
As stated before, the Madison Railroad "Does Not" depict any particular prototype railroad. The name given to the railroad was obtained from the name of the street that I reside on.
However, it was discovered much later after the creation of the Madison Railroad that a prototype Madison Railroad does indeed exist in Madison, Indiana. That railroad is operated by the Madison Port Authority which also maintains the steepest incline in the United States. Reading the web site (See for yourself) it was discovered that the prototype Madison Railroad is having a difficult time trying to make ends meet.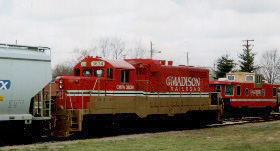 The above is a prototype picture of a Madison Railroad engine. Photographer unknown.
In any event, well before it was known that a prototype Madison Railroad existed, a photo module was used and the model Madison Railroad was founded in 1988. Since that time two cities along with a mountainous region was created when the layout was being constructed for scenic interest. The two cities were named for the two adjacent streets that are in the vicinity of where I reside. These cities are called "Connetquot" and "Jefferson" respectively. The scenery actually depicts an area in the mountains that may have existed somewhere.
Click on the image to see a larger picture.
| | |
| --- | --- |
| Connetquot was the first city created on the Madison Railroad. | Another view of Connetquot. Notice the high rise buildings. |
| | | |
| --- | --- | --- |
| Reserved | Jefferson was the second city created on the Madison Railroad. Many kits were bashed to create this city. | Reserved |
Most of the industries on the layout were named for family and friends. The names given to these industries suggest the interest or job classifications of these individuals. This sort of gave the layout its own personality.
[Home] [About Me] [History] [Photo Gallery] [Links] [High Rise Buildings]
[Photography] [Prototype Pictures] [Interchange Cars] [Exchange Cars]